What about compact table top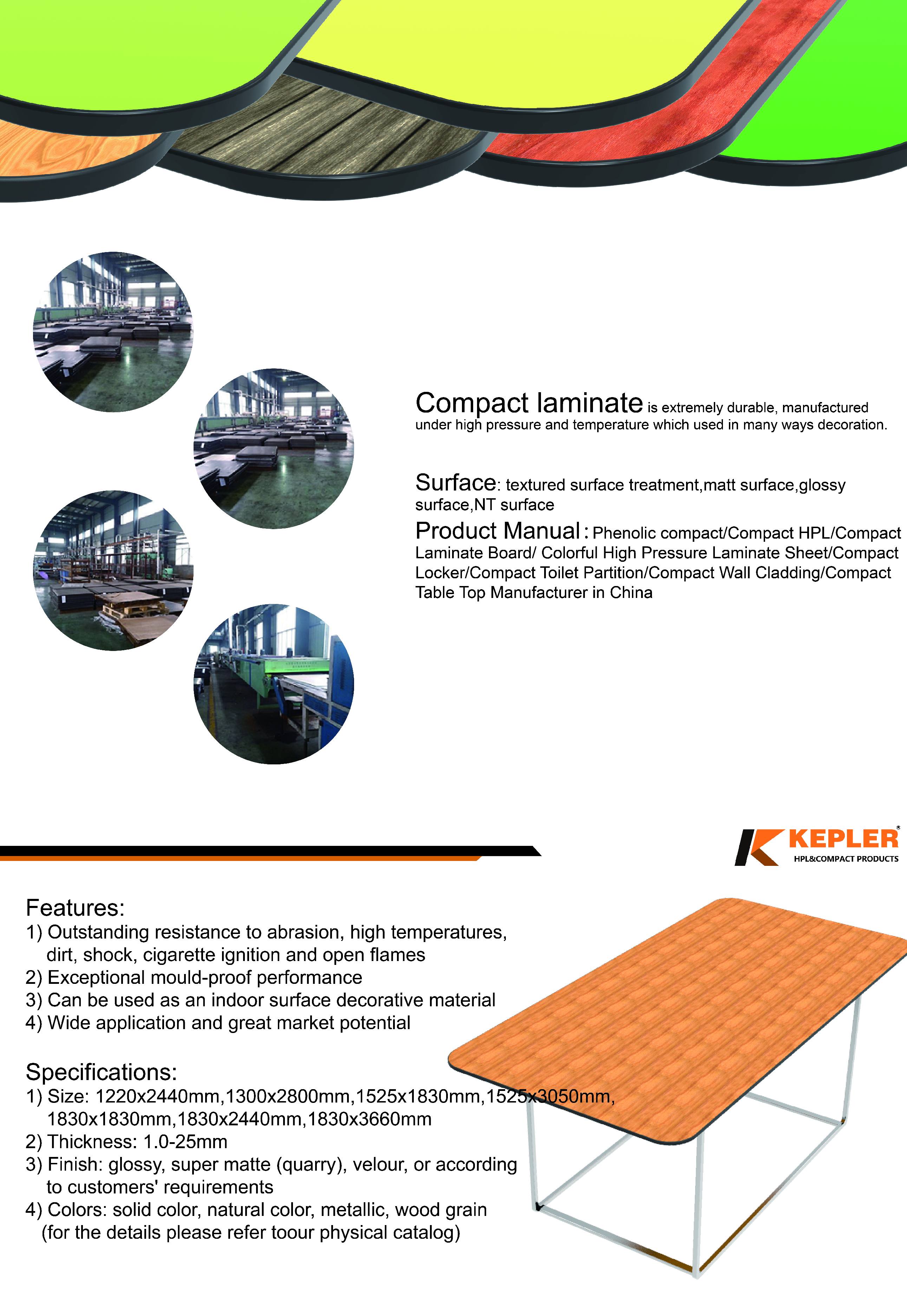 Description
HPL table top is made made from compact laminate with features on weather resistant, scratch resistant,UV-resistant(for outdoor grade), will offer you a better life style.
Table Top Material-Compact Hpl Board
Compact laminate is a high-pressure structural laminate, built from multiple layers of black craft papers with a decorative surface
on both sides. Compact laminates are kinds of high pressure decorative laminates with the thickness of 1.2mmto 30mm, with more layers of
craft paper, compared with normal flat HPL in 0.6-1.0mm.
Compact Grade laminate compact HPL table top is a high pressure laminate, which at 2-25mm, is much thicker than conventional
laminates(0.8-1.0mm). The Compact Grade laminate is intended for application as interior horizontal or vertical surface where high strength,
impact, water and humidity resistance are required. Because of its inherently high strength, Compact Grade laminate table top may be used
as a structural material. It may be drilled, tapped, sanded, shaped, and cut with standard carbide tipped tools.
Laminate HPL Outdoor Table Top
-Solid, low water absorption
-strong, impact-resistant, damp-resistant, heat-resistant and cigarette burn-resistant
-Easily dean, lifetime durability
-Integrated curved shape, showing the beauty of streamline
-Remarkable processing technology: By drilling, screwing, cutting to form different shapes
-Versatile color matches
Application
Widely used in surface decoration of rooms, garden, offices, compartments, hotel, restaurant, coffee shop, outdoor beach and table, school and sport complex.
How to clean
1. To clean with warm water and soap, then dry with dry cloth or paper towel.
2. Please use household detergent, not strong acid or base detergent.
3. If there is any stubborn stain, you could apply detergent to it, dry it with soft cloth after 15 minutes.